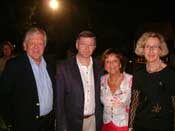 The Norwegian Prime Minister in Bangkok. Kjell Magne Bondevik met many Scandinavians mainly Norwegians during his visit in Bangkok 17. January 2005.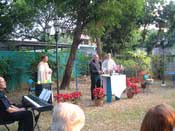 Scandinavians together in Bangkok More than 120 people met in the Scandinavian Church in Bangkok Sunday 9. januar. Leif Netland and Bishop Koskinen led the service.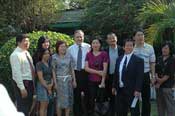 The Norwegian Minister of Foreign Affairs - Jan Petersen thanked all involved in the work helping others in the Tsunami. He specially thanked the Thai people.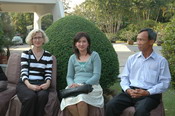 K. Rattana and K. Somkiet Special thanks to K. Rattana and K. Somkiet who helped Ragnhild and Knut assisting Scandinavians in need of help.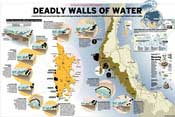 Map of Tsunami See the whole Tsunami Disaster Map with overview of the hit areas in South Thailand. It indicates Khao Lak had 11 m waves and Pantong 7-8 m waves.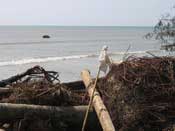 Odd Asbjørn Johansen found this flag left on the beach. The signal for HELP and someone trying to get attention in their despair? Or somebody marking a body? Odd and a friend from Dagbladet followed the sign and walked to the flag, the lady lying below was already dead... Among many strong impressions Odd had from his search on the Khao Lak beach.

Martin Aanstad 11 years was buried in Oslo on Friday January 7.
The Aanstad family (Merete, Marius and Morten) traveled in a SAS Ambulance Airbus to Norway 31. December.
Alexandra Hansson has found her brother Joakim and mother Christina safe 30. December, all was joined in Sweden 31. December. We are still missing her father Richard Hansson.
Christina and Ebba Börjesson are both safe back in Sweden. Odd Asbjørn Johansen, Gina, Tinius and Martin Berntsen are all back in Norway united as family again.
Helene Svenningsen has been treated on a Bangkok hospital together with her mother May Grethe. They are both back in Norway. Marius saved Helene in the wave. Her father Helge Svenningsen is now confirmed dead.We wish them all the best for the future. It has been a pleasure to assist them. Let us all wish this will never happen again!Ragnhild and Knut SkaarBangkok